Posted date: 29 Nov 2015
CHURCH AT YOUR TEAM'S STADIUM
Despite finding themselves at the wrong end of the Championship, it's an exciting time to be a Christian Bolton Wanderers fan. There's a new initiative, taking place at Bolton's Macron Stadium. Combining faith, family and football, trotters fans are being encouraged to attend a pre-match event described as 'Messy Church' in football: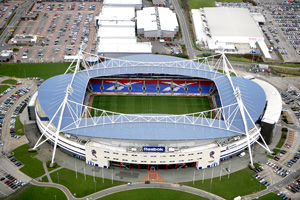 Bolton Wanderers FC was founded by Reverend Thomas Ogden in 1874 as a part of a plan to teach and mentor life skills to young men in Bolton, such as teamwork, discipline and being the best you can be. Today, BWFC is still just as committed to making a difference in the local community through its Community Trust led by Club Chaplain Phil Mason.
One of the more recent initiatives has been a pre-match event held before home games called Faith, Family, Football, which, interestingly, is also a club motto representing the three most important values held by the players. The pre-match event, which is free for all ages to attend, has been described as a "Messy Church" in a football stadium and lasts about 45 minutes in one of the best hospitality suites at the club.
Mark Cowling, one of the church leaders involved in organising the event explains, "We have a different football related theme for each event and, in a magazine style show, we share some thoughts about football, teamwork as a family and as a community and the inspiration faith can bring."
Local churches have been encouraged to reach out to their local schools with invitations to children and their parents. BWFC have also supported the event with a special offer match ticket and, so far, the events have been very well attended.
Rawfaith
You can connect with Christian football fans of your beloved team or even be the one who co-ordinates them to meet, chat, mobilise and work towards introducing fellow fans to Jesus. Get involved or just find out about Rawfaith here.
You can keep up to date with the faith, family, football initiative on Twitter and Facebook by following BWFCFFF or you can email Mark Cowling direct on – bwfcfff@gmail.com