The Crazy Way Cards
Helping you point men to Jesus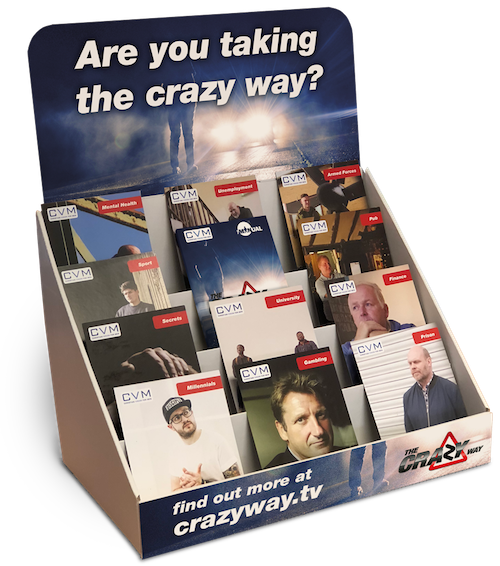 The Crazy Way Cards are a set of 11 differently themed cards. Each card tackles an interest or issue, often encountered by men, and is designed to point people to the Crazy Way website where they can watch/listen to the testimony of someone who's life has been changed by Jesus. 
How it works...
The Crazy Way Cards are designed to resource individuals and churches. If a not-yet-believing mate is involved in one or more of the subjects covered by the cards, these cards could be a very good 'way in' to sharing the good news of Jesus, with them.
Each card carries…
A short, written Gospel presentation.
A link to a partner organisation who specialise in the subject featured on that particular card.
A web link to a couple of testimony videos. 2 min (approx)
Plus, an extended 5-minute version too*.
Themes covered...
Finance, Gambling, Mental health, Military, Millennials, Porn, Prison, Pub, Sport, Unemployment and University.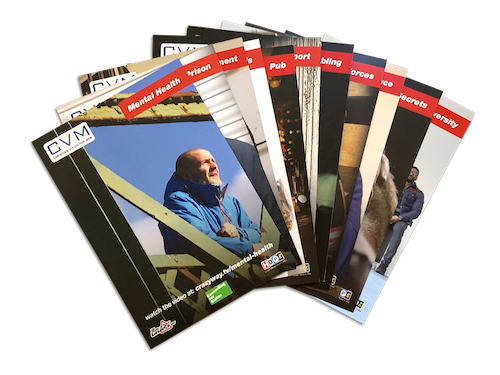 Display...
Each card is A6 (postcard size), double sided and is designed in a way that, when on display, the theme/subject is clearly conveyed. We are also able to supply you with a table-top display for all the cards, if you require it.
Cost...
Sample pack: £1.00 - 1 of each of the 11 themed cards** plus 1 x Crazy Way booklet.

Complete set (cards only): £3.00 - 10 x all 11 themed cards plus 10 x Crazy Way booklets.
Full display set (complete set of cards and display stand): £5.00 The normal price for this package would cost you £17.50 but we are able to offer this at a heavily discounted rate thanks to a generous donation.
Men's groups officially partnered with CVM can get this full package, FREE OF CHARGE
Check-out the Crazy Way Card videos here

For more information please don't hesitiate to contact us


*Only 2 min version available for the 'Sport' and 'Porn' video link
* *You are able to request specific themed cards from our range in subsequent orders. These are packed in 10s. Prices vary depending on quantity. Contact office.