Date: 1 Jun 2019
Time: 8:30 am - 10:30 am
Region: England: Yorkshire and the Humber
Venue: York
Men's Big Breakfast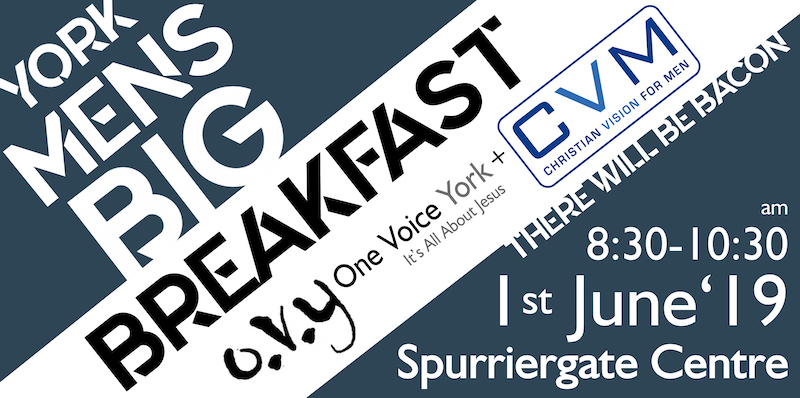 Join us for this city-wide men's breakfast celebration event which will be set in the Spurriergate Centre in the heart of York. Organised by One Voice York and Christian Vision for Men this event will be part of the 'Thy Kingdom Come' week of celebrations which lead up to Pentecost Sunday.
Arrivals from 8 am will see a cooked breakfast served at 8:30 am.
Venue: The Spurriergate Centre, Spurriergate, York YO1 9QR
After introductions and a time of sung worship our 2 guest speakers will be:

PAUL GASK, CVM
'Gasky' served as a police officer in Leicestershire for over 30 years, mostly in the specialist crime arena (CID). He also spent 10 years working with individuals who commit serious violent and sexual offences against women and children. From believing in nobody but himself Gasky became a Christian in 1996 after the Lord burst into his life in his own "Damascus incident".
Having spent the bulk of his working life seeing an untold number of men destroying themselves with violence, aggression, pornography and alcohol reliance, to name but four, he really felt straight away that God was calling him to reach normal everyday blokes just like him for Him.
He is now licensed by the Church of England as an Evangelist, leads a men's ministry in his home church of St. Andrew's (in the South of Leicester), and he is CVM'S Regional Director for Northern England.

JOHN LEE, OVY
Co-Chair of One Voice York - for many years he was vicar of St Paul's Holgate, but recently has taken up a new post. He now leads the team tasked with creating New Worshipping Communities focused on 20s-40s in the York Diocese.

Please book early and join us for a memorable morning.