Posted date: 10 Jun 2021
Father's Day 20 June
Get Sorted for Father's Day with these great resources!
The importance of the role of fathers is one which, we at CVM, believe to be a vitally significant one. A role that includes men who may not be dads, but father figures to a generation of children around them. It is essential to help grow and celebrate faith in fatherhood, and we invite you to use this new resource for your Father's Day services.
You can grab the book via our shop and don't forget to download the free father's day service pack which will help you with ideas and some creative ways to help connect a gospel message to men this father's day.
Founding Fathers
All men have the amazing potential to be great fathers in an increasingly fatherless society. Never before have good male role models, for children and young people, been recognized as so urgently needed.
CVM's book, Founding Fathers, celebrates the importance of the role of fathering at all stages of the journey and offers thinking and help to dads as well men with no children who could still be a key influence to a fatherless generation.
Father's Day Pack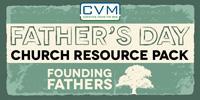 This is the one-stop solution for all your Father's Day needs.
Featuring lots of ideas, a suggested service and sermon outline for Sunday, children's activities for Sunday School, and small group ideas for dads as they get together.
Whether you're a minister, Sunday School teacher, church leader, or just someone concerned about modern-day fatherhood this feature-rich pack is not to be missed!
Sorted Magazine
Just perfect for special outreach events, Father's Day, men's breakfasts, sports events, or just any time you want to spoil a bunch of blokes.
This year's special Father's Day issue includes:
Hollywood A-lister, Jamie Foxx, TV's Dan Walker, John Legend, our Euro Footie Guide, Bear Grylls and so much more.
Don't let the restrictions stop your fathers from getting Sorted.
USB Radio: Life Issues (Fathering)
Nathan Blackaby and Jon Stockley are joining Paul Hammond on USB Radio to talk about Fathering. The interview will be aired the week beginning 7 June 2021: -
In segments over 4 mornings Mon - Thurs between 9:35 am and 11:40 am.
Saturday evening on UCB 1 between 10:00 pm and 11:00 pm.
It will also then be available as a Podcast, on UCB Player App. or from your podcast provider.