Posted date: 3 Mar 2016
DID ANYONE HIT THE TARGET?
Our first CODE Unleashed day took place on Saturday 27th Feb. A good number of guys, ready for an outdoor challenge, travelled in from not too far away for a day that featured fun, fire and food, to name but three things.
Some Christian guys brought their 'not yet believing' mates too. They were instructed in the ways of 'spark and sling' as Dave and Tim, from Global Adventure, shared some survival tips; Various methods of lighting a fire using natural materials and stuff that lines our pockets and building and demonstrating a sling-shot. All the guys then mucked in to build fires and slings, to varying degrees of success, but to much enjoyment.
Man fuel came in the form of a barbecue for lunch plus tea, coffee and biscuits throughout the day.
CVM Exec Director of Ministry, Nathan Blackaby, brought the focus onto Jesus at various points throughout the day to leave the guys challenged spiritually as well as physically.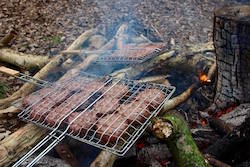 The afternoon culminated with the slingshot challenge of hitting an old out-of-use TV with a stone, using the slings made that day. We registered one legitimate hit on the (outer casing of the) TV and a lot of near misses. However one slightly frustrated participant decided to then chuck a bit of brick at the target...and got it spot on!
"I enjoyed being outside in the woods, making a fire from the stuff lying around, being inspired to make a difference; a great day."
Chris, Chesterfield
"I liked that we were Christian and non-Christian guys getting together in an impartial environment to talk men stuff about life."
Neil, Rotherham
Check out some photos from the day here