Posted date: 2 Sep 2011
Code IX Unlocked!
Hundreds of men have been downloading the Codelife Bible studies looking at what it means to be a man and follow Jesus.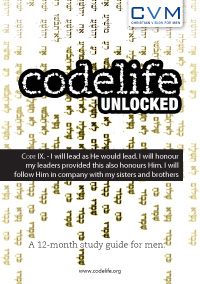 The nationally acclaimed studies have been commended by denominational leaders and can be downloaded for free here.
This month's code analyses what it means to lead as Jesus would lead. The studies look at following the unique leadership example that Jesus modelled in his ministry.
Typically, the Codelife study is ideal to look at on your own or with a group of mates. Code IX reads: 'I will lead as He would lead. I will honour my leaders provided this also honours Him. I will follow Him in company with my sisters and brothers.'